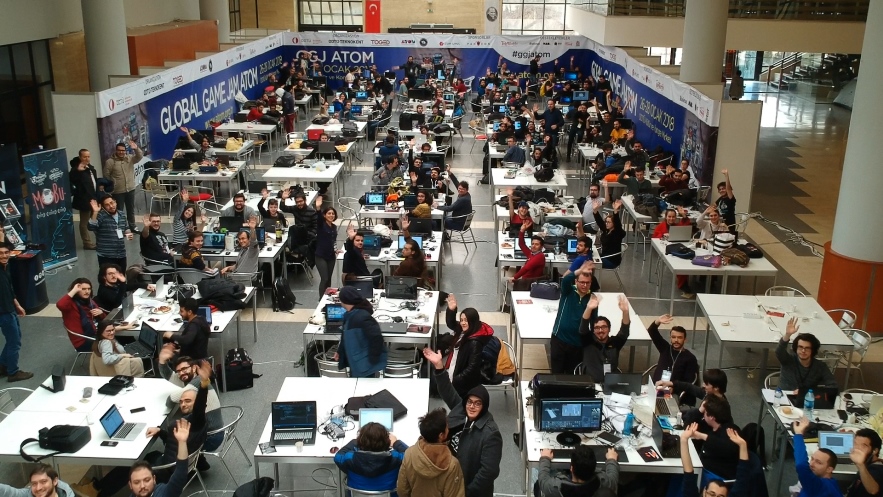 Carried out in Turkey simultaneously with the countries across the world since 2009, the Global Game Jam (GGJ) organized by ODTÜ TEKNOKENT in Turkey ended with a marathon of 57 games.
225 developers scored 57 games in GGJ ATOM organized by ODTÜ TEKNOKENT ATOM Center in Turkey. In the 48-hour marathon, game developers created games with interesting names such as "Kuru İftira", "Kaçak Elektrik", "Karpuz Kaldıran", "Üfürükten Tayyare Selam Söyle O Yâre", "Klavye Delikanlıları" and "Kapıcılar Kralı".
Exciting games were developed during the Global Game Jam (GGJ) event, which brings together game developers in a single theme for 48 hours all over the world. Looking forward to joining the event, game developers started to set up their team after the announcement of this year's theme as 'transmission'. Almost 40 thousand game developers in 804 centers from 109 countries joined the GGJ this year, which attracts higher number of participants each year.
GGJ ATOM in ODTÜ TEKNOKENT, one of the most important centers of the event in Turkey and in the world, hosted 225 game developers this year. Colourful scenes were on display at METU Culture and Convention Center throughout the event. Some game developers camped in their tents at the event area, while others preferred inflatable mattresses or floor cushions.