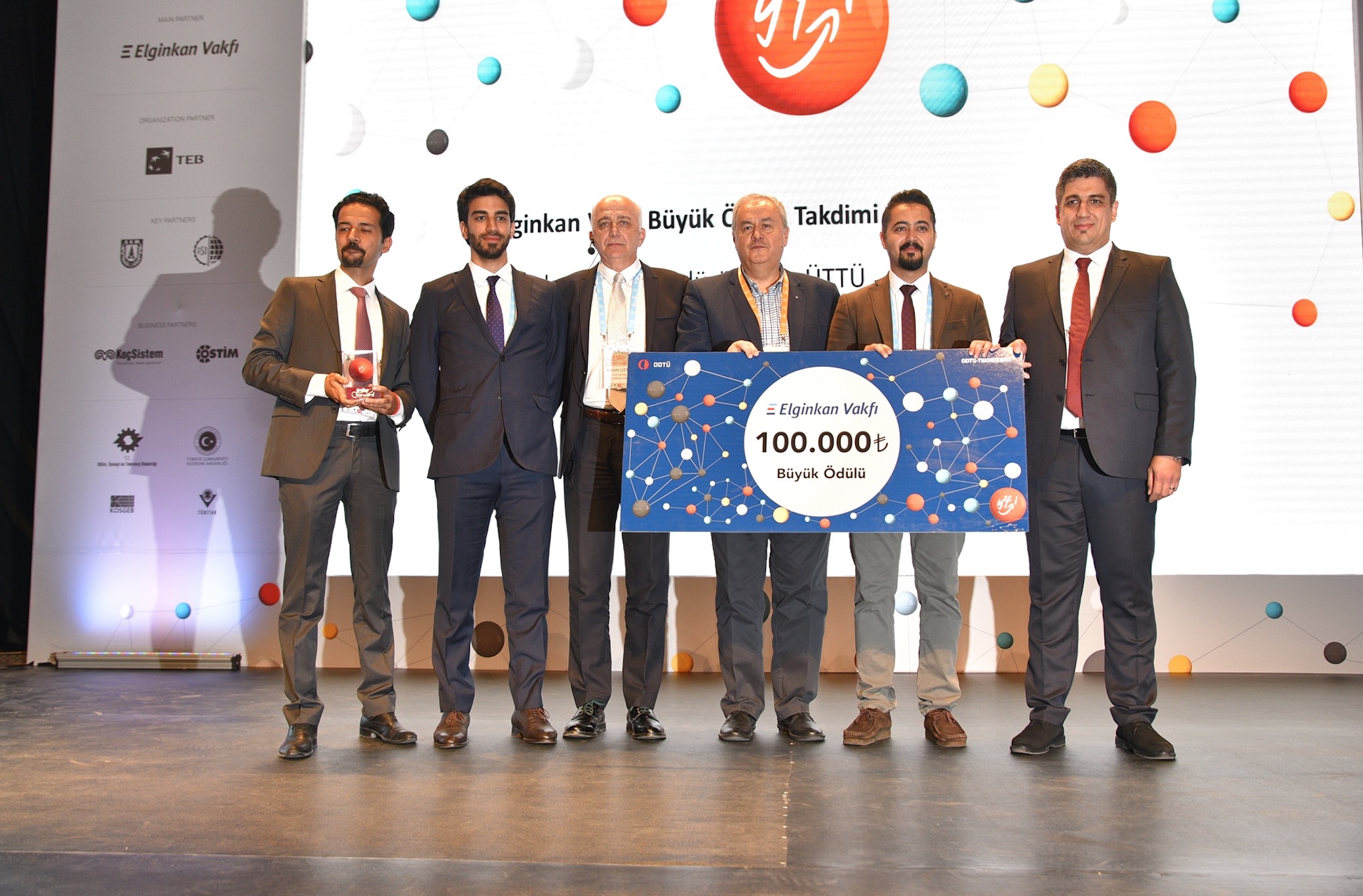 22 entrepreneurs who attended the acceleration program held in Turkey and US as part of the New Ideas New Jobs (NINJ) acceleration program organized for the 13th time this year by METU and ODTÜ TEKNOKENT told us about their initiatives to steer the future making their presentations on Demo Day held on October 14, 2017. Entrepreneurs tried to influence the participants with their project, which they only told in 3 minutes.
As part of the NINJ Demo Day held at METU Culture and Convention Centre, the winning entrepreneurs were announced in an awards ceremony organized in the afternoon following an evaluation of the presentations they made.
After the evaluations, Buyan team won the "Elginkan Foundation Grand Award" given by Elginkan Foundation, the main sponsor of NINY for 13 years, with their coating project that would shut itself down and prevent the fuel leaking out in case of a hole in the fuel tank. The first team was awarded 100,000 TL. Projects were also voted in a public referendum. The Public Referandum Award was given to Restearn team that would turn restaurants into modern efficient, long-term profitable restaurants with happy customers as a result of the public referandum with 6874 participants.
As well as these two awards, entrepreneurs were also awarded by the sponsors. The winning teams and their projects in different categories are as follows; 3D3 TEKNOLOJI team and Mikro Biyosistemler team, IE Business School Special Award ; Icaked team, Btech Special Prototyping Award; Icaked, Comind and Peerket teams, Onedio Advertisement Support Special Award; Seyisco team, KoçSistem Special Award; Seyisco team, Elginkan Foundation International Program Participation Award; Pyronome team, Undersecretariat of Defense Industry Award; Kuantek team, TEB Award; Mikro Biyosistemler, ASO Award; 3D3 TEKNOLOJI team, OSTIM award.
In the finals ceremony presented by Metin Uca, Prof. Dr. Mustafa Verşan KÖK, METU President and Chairman of the Board of ODTÜ TEKNOKENT, stated that their vision is to plant entrepreneurial spirit in university students and alumni and to bring new technology companies to Turkey through the NINJ Acceleration Program initiated in 2005 in line with "alumni who do not find a job but establish one" approach of METU.
Pointing out that NINJ has been an instrument in the establishment of more than 200 technology companies so far and provided young entrepreneurs with the opportunity to turn their technology-based business ideas into successful companies, Prof. Dr. KÖK, "More than 60% of technology companies of over 330 companies in ODTÜ TEKNOKENT have been established in ODTÜ TEKNOKENT for the first time and made up of companies developed in this ecosystem. 20% of these companies are the ones that our academicians have built to transform their research into economic value."
For the activities carried out in Teknokent, Mustafa Kızıltaş, General Manager of ODTÜ TEKNOKET, said they contributed around 5-10 billion dollars to the domestic economy when the mass production is included and they aim to increase the technology exports by 5 times and per capita exports in dollars by 2 times in 5 years, pointing out that the economic size of the technology exports of the companies in Teknokent exceeds 1,2 billion dollars.