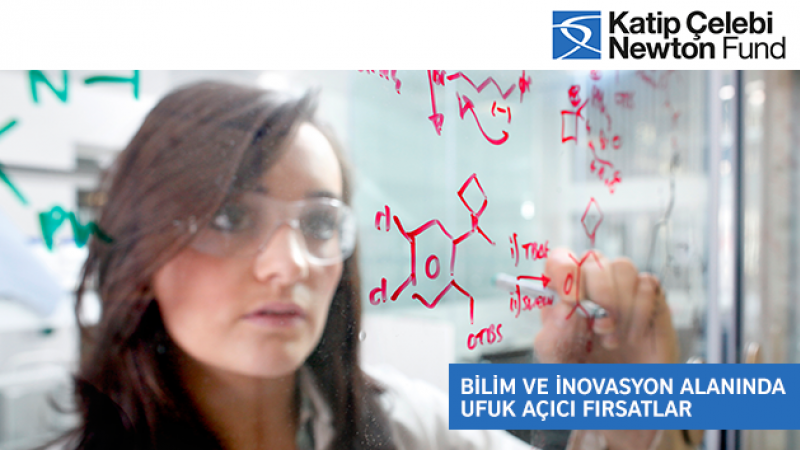 The Newton Fund was launched in 2014 to promote economic development and social welfare in partnering countries, through science and innovation partnerships and consists of a £735 million investment to be disbursed by 2021, with partner countries providing matched resources to the fund. The fund is managed by the UK's Department for Business, Energy and Industrial Strategy (BEIS), and is delivered through different UK institutions including British Council, in partnership with the Scientific and Technological Research Council of Turkey (TUBITAK) in Turkey. The grants delivered under the Newton-Kâtip Çelebi Fund are supported by both the UK and Turkish governments with an annual budget of up to 4 million pounds per year from both sides.
The Kâtip Çelebi-Newton Fund is part of the wider Newton Fund Research and Innovation Collaboration Programme which aims to build UK-Turkey research and innovation partnerships centred on shared research and innovation challenges which have direct relevance to Turkey's social welfare and economic development. Through the Newton-Kâtip Çelebi Fund Programme 106 projects have been supported so far bilaterally by British Council and TUBITAK under the PhD Programmes, Researcher Links and Institutional Links strands.
Middle East Technical University is one of the most successful universities of the Newton-Kâtip Çelebi Fund in Turkey and has received support for 10 projects in total from British Council. With the support of the Researcher Links-Travel Grants, Prof. Dr. Nazlı Wasti Pamuksuz and Prof. Dr. Rengül Çetin Atalay have hosted two researchers from the UK and Assist. Prof. Ozan Keysan has visited Edinburgh University. Through the Researcher Links-Workshop Grants, Prof. Dr. Ela Alanyalı Aral and Assist. Prof. Dr. Nejan Huvaj have brought together 66 researchers from the UK and Turkey at the workshops they have organised. Through these workshops many new connections were created. Finally Prof. Dr. Adnan Yazıcı, Prof. Dr. Nazlı Wasti Pamuksuz, Assist. Prof. Dr. Selçuk Yerci, Prof. Dr. Levent Toppare and Prof. Dr. M. Volkan Atalay have lead Institutional Links projects and contributed to the establishment of connections beyond the level of the individual researcher, giving opportunities for more sustainable research collaboration.
British Council will continue to fund projects under the Institutional Links Programme. The next call for applications will be launched on 9 April 2018. The programme will provide small-scale seed funding to:
Initiate new research and innovation partnerships between groups, departments and institutions in Turkey and the UK
Develop existing partnerships at group, departmental and institutional level
Establish local hubs for UK-Turkey activity in a particular research area, enabling engagement from the wider research community
Size of the grant:
Up to £150,000 for the UK institution
Up to 720.000 TL for projects from Engineering & Physical Sciences and 360.000 TL for projects from Social Sciences and Humanities for the Turkish institution
For detailed information about the Institutional Links grants please see:
https://www.britishcouncil.org.tr/programmes/education/newton-katip-cele...
https://h2020.org.tr/tr/ikili-isbirlikleri/gb
http://www.tubitak.gov.tr/tr/kurumsal/uluslararasi/icerik-ikili-proje-de...