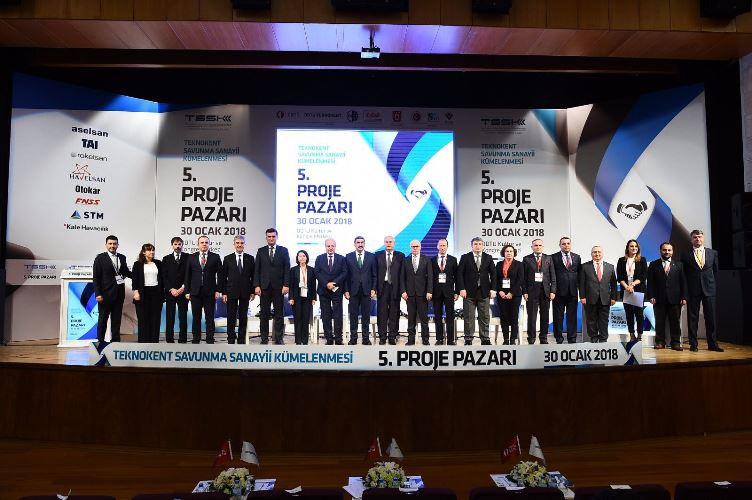 Collected under the roof of TSSK, the Defense Industry companies in ODTÜ TEKNOKENT and other TECHOPOLISES in the region meet at METU CCC for the 5th time as part of the TEKNOKENT Defense Industry Cluster (TSSK) organized by METU, ODTÜ TEKNOKENT, TUBITAK, ASO and SASAD under the supervision of the Undersecretariat for Defense Industries.
Teknokent Defense Industry Cluster (TSSK) companies formed by Defense Industry Companies in ODTÜ TEKNOKENT and other technopolises in the region come together at TSSK 5th Project Market to increase their business development potentials and to establish an active communication. In the Project Market organized by METU, ODTÜ TEKNOKENT, TUBITAK, Ankara Chamber of Industry (ASO) and Defense Industry Manufacturers Association (SASAD), negotiations were carried out to strengthen the relations and communication among the companies, research centers and academicians in the sector, to develop projects through the synergy to be created, to use the current resources effectively and to plan the new investments to be made properly.
Delivering the opening speech of TSSK 5th Project Market organized under the auspices of Undersecretariat for Defense Industries, Fatih Ünal, the Chairman of TSSK Board, stated that the Cluster has 124 members, the export level reached 135 million dollars, while the turnover level reached 1.4 billion liras last year. Highlighting that their main objective is to improve R&D and innovation, university-industry cooperation in a more specific and efficient manner, Mr. Unal said the project market allows major actors and small actors in the sector to know each other's needs and abilities. Mr. Unal drew attention to the importance of the project market in ensuring the communication among domestic actors and minimizing the external dependence.
Prof. Dr. Mustafa Verşan KÖK, METU President and Chairman of the Board of Directors of ODTÜ TEKNOKENT, stated that one of the most important goals of ODTÜ TEKNOKENT hosting more than 100 defense industry companies is to contribute to the development of national and innovative technologies that contribute to the national defense.
While Nurettin Özdebir, Chairman of Ankara Chamber of Industry (ASO), underlined that Turkey needs to leap from the intermediate technology into the high-tech segment to accomplish the economic targets defined, Celal Sami Tüfekçi, the Deputy Undersecretary for Defense Industries emphasized in his speech that national projects are one of the most important values ​​of the Turkish army. Salih Tuna Şahin, Chairman of KOSGEB, explained that they focus on technology development and localization, technology-based entrepreneurship, internationalization of SMEs and scale-up.
Following the speeches, KOSGEB Chairman Cevahir Uzkurt and METU President Mr. Kök signed the METU-KOSGEB cooperation protocol.