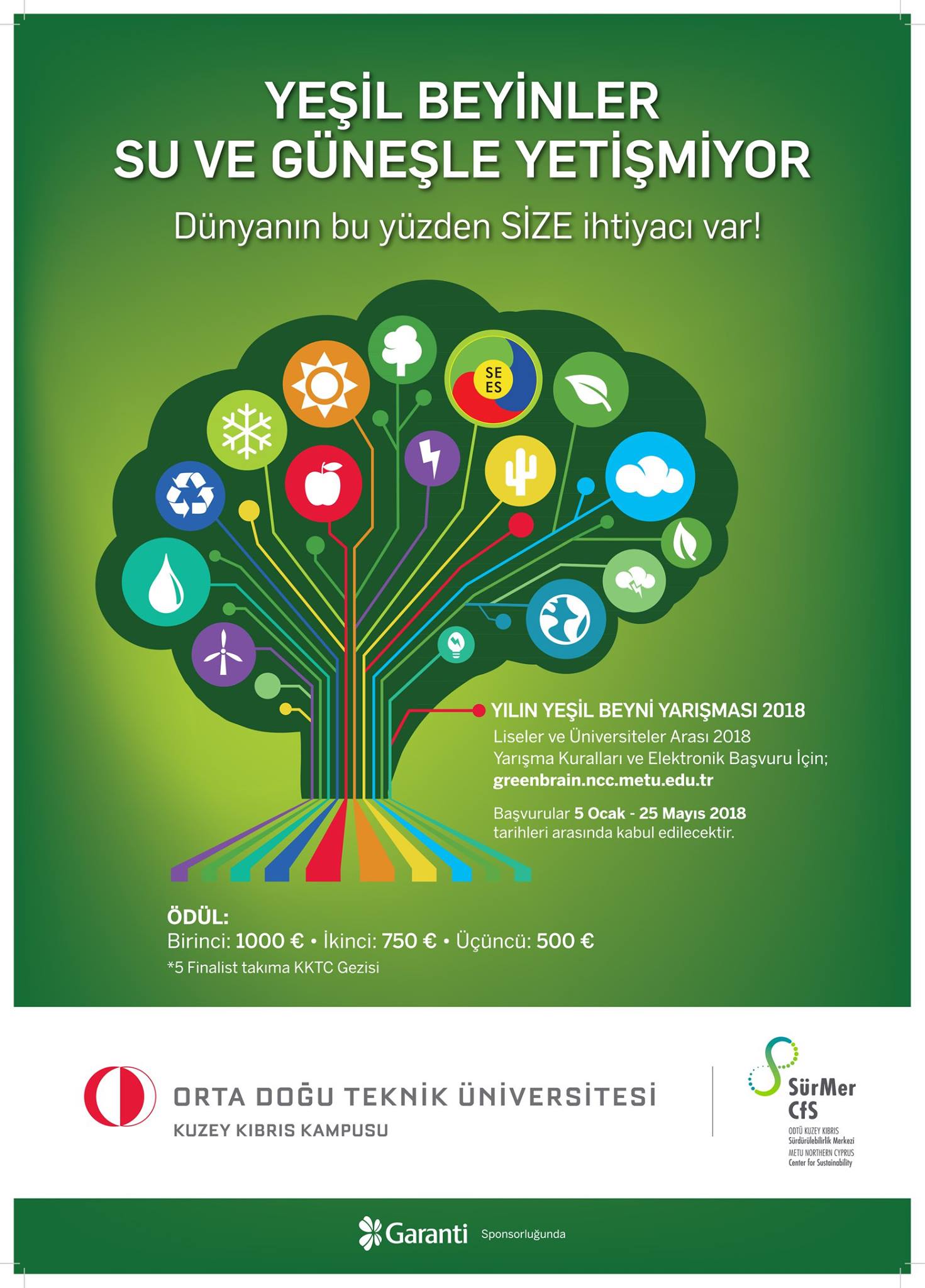 The finalists of "Green Brain International of the Year International Project Competition" organized by METU Northern Cyprus Campus (METU NCC) for high school and university students to raise awareness of sustainable energy and water resources have been determined. In the competition where projects from 40 different countries participated, 9 finalist teams performed their presentations in the event organized. In the competition organized by the Sustainable Environment and Energy Systems Graduate Program and receiving 220 applications from 13 different countries, the jury has found 5 projects at the high school level and 4 projects at the university level eligible for the finals. 
The awards have been presented to the members of the first three teams individually in the New Academic Year Opening Ceremony of the METU Northern Cyprus Campus held on October 6th. Each member of the first team has been awarded 1,000 Euros, the second team 750 Euros, and the third team 500 Euros as well as a trip to TRNC for all finalists. In the Green Brain of the Year Competition for high School students, the first team has been awarded 1,000 Euros, the second team 750 Euros, the third team 500 Euros and a trip to the TRNC among the teams consisting of two high school students.

In the high school category of the competition, Doğu Deniz Uygur and Eda Ayan from TED Ankara College came in first with the project "Designing a Circuit for Harvesting Atmospheric Electricity as An Alternative to Existing Renewable Energy Sources", while Evren Geydirici and Müge Demirsoy came in second with the project "An Experimental Review of the Impact of TiO2 Nanoparticle Application on the Performance of Anode Catalyst Substrate in Direct Methanol Fuel Pillars (DMFP)" and Sena Ecem Özcan and Rana Yaren Civelek from Ordu/Altınordu - Dr. M. Hilmi Güler Science and Art Center came in third with the project "Insulation with Wall Paper".
In the competition for university students, Kiran Adhikari and Larissa Oliveira came in first with the project "Wireless Resonance Power Transfer By Superposing Magnetic Fields For Reducing Batteries and Other Electronic Wastes", while Hossam Ahmed ve Kareem Ahmed from METU NCC came in second with the project "Environmental Signal Amplifier" and Bilal Siddiqui and Jesutomito P. Morankinyo came in third with the projetc "Olive Pomace-based Green Bifunctional Photosensitive Nanocomposite for Olive Mill Wastewater Treatment: Techno-economic Feasibility Analysis".
Delivering a speech before the presentations in the METU NCC Conference Hall, METU NCC President Prof. Dr. Nazife Baykal told young people that they are carrying out this event to raise environmental awareness, pointing out that environmental pollution is one of the most important problems of the 21st century. Prof.Dr.Baykal thanked everyone who participated and contributed to the competition by expressing their happiness about the increasing participation in the competition every year.
New applications for the "Green Brain of the Year", organized since 2012 and held for the seventh time this year, will continue until May 25, 2018.