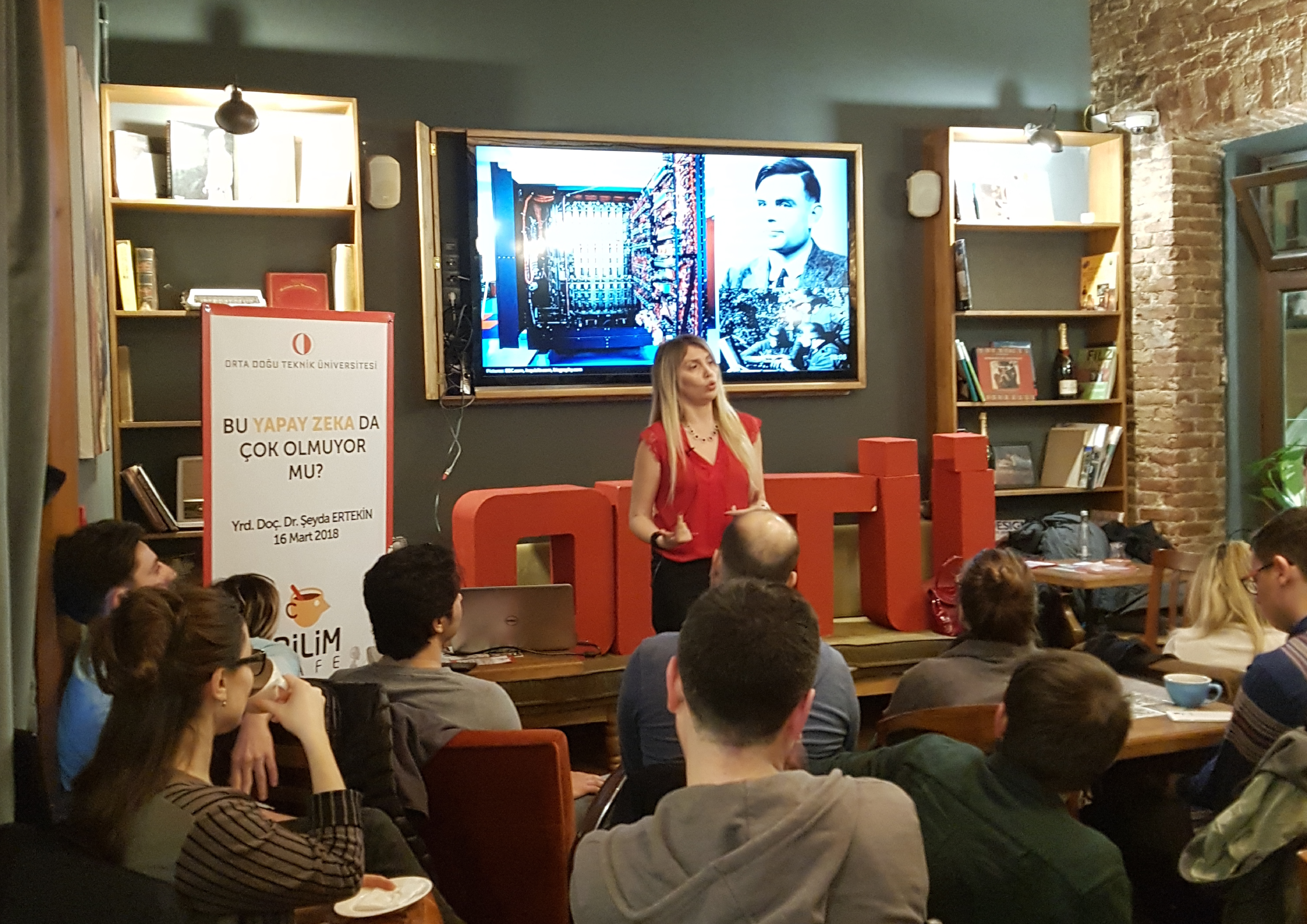 About Assist. Prof. Şeyda Ertekin
After receiving her undergraduate degree in Electrical and Electronics Engineering at METU, she received her Ph.D degree from Penn State University with the "Best Thesis Award", Dr. Ertekin is among the first researchers who is supported by scholarship funds by the MIT Intelligence Initiative for her studies at MIT (Massachusetts Institute of Technology). She is still conducting projects on intellgence and technology, energy, and smart systems in industry 4.0 and IoT at METU and MIT.
The 8th Science Cafe event organized to conduct interviews with scientists in public spaces in cooperation with METU Alumni Associations was held in Istanbul on March 16, 2018. In the event, Asist. Prof. Şeyda Ertekin from METU Department of Computer Engineering informed participants about artificial Intelligence, the driving force of the new technological era with her speech " "The Artificial Intelligence Goes Too Far, Right?" The "Artificial Intelligence-Machine Age" topic, which will be the driving force of the new technology era and revolutionize our lives as never seen before, attracted a great deal of attention from the participants. For detailed information and previous Science cafe events, please seewww.bilimkafe.metu.edu.tr.
About "Science Cafe
"The "Science Café" event, the first university organization held in Turkey among the "Cafe Scientifique" events that first appeared in the UK and later became widespread throughout the world, includes the talks organized by the participation of METU academics in public places such as cafes and youth centers in the social topics in line with the mission of the METU Science Communication Team to attract attention and raise awareness about science in society. The first of the Science Café events organized for the first time by our University in Turkey was in Mersin on "drought" and the it continued in Eskisehir on "Palm Oil", in Antalya on "radiation", in Adana on "entrepreneurship", in the Northern Cyprus on "solar energy", in İzmir on "exam anxiety" and in Gaziantep on "Göbekli Tepe" .